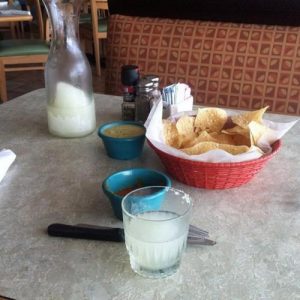 Wanted: New Mexican Restaurant – so this is sort of like a dating profile. We're looking for a new Mexican restaurant to replace the one that no longer makes us feel welcome after over 16 years of loyalty. You can read about some of the cause here: Margaritas are supposed to contain tequila.
What we're looking for shouldn't be hard to find, not in Houston, where restaurants are born almost constantly and people eat out more than the national average. Since we're not patronizing the place that doesn't make us feel welcome: (and here's a quote from the owner of said establishment)
"One leaves, three more come, so what? <shugs>"
Clueless, Heartless Restaurant Owner
We want to go where we feel appreciated, and welcome. It's nice to walk in and know who will be serving you. (You know: where everybody knows your name) It's nice to have them remember your favorite orders, and have drinks arrive without saying anything. It's a relationship. We've been missing that. Good margaritas are a must.  Quality salsa, chips, queso and fajitas are important too.
When you go out to eat Mexican like we have (and I've grown up eating out Mexican at least once a week, forever) you want a place you can depend on because it's a place you'll be visiting a lot. (A. Lot.) It's the place we go after everything, it's about comfort and food and margaritas.
And we have a contender!
We tried a new place tonight. It's not 'new' New, but it is new to us. Leila's in our extended neighborhood and we stopped in on a Wednesday night. We've driven by so many times. It was rainy tonight and not very busy. (which is actually kind of nice, because you can hear one another talk and can have an actual conversation without shouting.)
We did the liter of margaritas and found them to be good. We also had the mixed fajitas and chile con queso. These are the things we go to every time when trying a new restaurant, they're kind a measuring stick. Everything was good, fresh and what we expected. Service was excellent.
Even better, we noticed several obvious regulars, who were greeted with the attention to detail that we crave. One gentleman arrived and before he was even settled in his seat, here were his margaritas.
So we'll be visiting Leila's again and soon. Since it's a relationship, it takes a bit of time to get to know one another.