Last night, at Lupe Tortillas, we were treated to some people watching, date night entertainment. Sitting on the patio, we were able to observe an interesting phenomenon.
It was Ugly Shoe Night. If you didn't know that existed, neither did we, until it became obvious that the one really large party had a larger than normal share of ugly shoes, which they paraded across the patio as they tried to keep their children under control. (It was also apparently Let Your Hellions Run Amuck on the Patio night but I'm not going to talk about that.)
Specimen One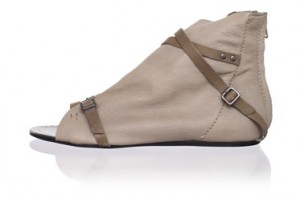 The first specimen was so ugly that I couldn't find an exact image on Google or Bing or Zappos. This image is as close as I could get, just imagine it without the strap detail and imagine it looking more like a pale ace bandage, wrapped around equally pale legs. Mummy-shoes. Egyptian, not mommy. Got that picture? Yeah. Hideous.
Specimen Two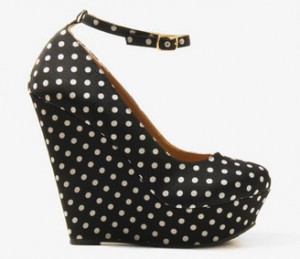 A too tall platform wedge, in polka dots. (ha, I originally typed polka-don'ts…) Sky high and probably not advisable if you're drinking margaritas. We watched her totter off on the gravelly part of the patio, wobbly. She didn't fall.
(yes, I know that people like these shoes, I  know that, Forever 21 sells them, they're just not for me – okay?)
Specimen Three
It was a little like that Sesame Street game, "One of These Things" (is not like the others).  No picture of this one, so I will tell you about it instead. You know those bridesmaid shoes that were satin and dyed to match the dress? Yeah, the super formal ones with the little crystals on them? D'orsay with ankle straps and 3 1/2 inch heels. Pair them with casual cropped jeans and a long sleeved tee (hey? it's August and 95 degrees at 7 p.m. and you're outside, on the patio.) It was almost as if her feet were going to a formal event without her.
Somewhat surprised we didn't see these.