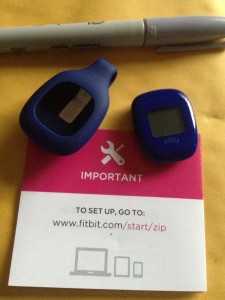 Since I started my quest to get healthier and lose some weight, I started thinking about other aspects of my life and how I am always sitting in front of this computer. I don't exercise really and that has to change. So I read about FitBit and thought it would fit in as a great way to be mindful about moving, after all if you're wearing it, it's tracking. So I ordered it at Amazon, and it arrived in a couple of days.
I got my FitBit and unboxed it today. In the box: the main unit, a battery, a tool to open the unit to install the battery, a USB dongle and the clip. The main unit is tiny, more or less quarter-sized. The instructions tell you to go to FitBit.com/start/zip – so I did.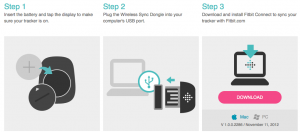 First you install the battery: I had a little trouble getting the cover off to put in the battery – it's just small to work with. I installed the battery and it turned on and greeted with me a happy little face.
Next you plugin the USB dongle. This is how the FitBit will sync your activity. (You can also use your phone, I also grabbed the iPhone app, more on this later.)
Then I downloaded the software for my computer and followed the instructions. The software connects to the FitBIt wirelessly and you are guided through creating an account if you don't already have one. I was up and running in a few minutes.
I was ready to start moving. I figured I start with walking, it's easy, and after being mostly sedentary, I thought anything is better than what I was doing. We have a great green belt walking trail in our neighborhood. Actually it spans 2 neighborhoods, and there are crossovers with an incline periodically, so you're not always walking on flat ground. It's nice, and something I should have been taking more advantage of but I was sucked into believing that I needed to be in front of this computer and "working" whether or not I was being really productive or not. (that's another post, isn't it?)
So I began walking and let the FitBit do it's job, tracking things. Once I had some data, I synced the FitBit with the website so I could go view my stats. (I've been using it for a couple of weeks now and it's really fun to look at progress with the charts and graphs)

On the website you can also track your weight (manually, or automatically if you have their Aria scale), track your measurements (manually, I am tracking my waist and hips). Since you enter in your height the FitBit site calculates your BMI (body mass index) so you can see how you're doing there, I really like this chart because it shows you if you're in the overweight range or not and shows you how you're improving.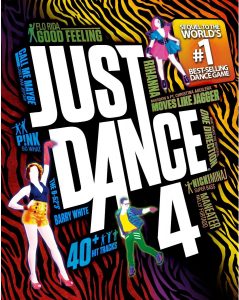 Last night I tried an experiment with my FitBit. I was curious to see how it would pick up playing Just Dance 4 on the Xbox. The Xbox version of the game requires quite a bit of jumping around (as opposed to the Wii version that lets you just wave a controller) My daughter and I played 5 to 6 songs, back to back. Overall she won more, but I did best her on a few! The verdict? That game session registered as 3,000 steps. Nice! I like this because it's fun to play with my girl, and there's a lot of laughter involved in trying to get the moves right and not run in to each other.
The FitBit site also has a social component. You can challenge friends who also have one, as well as earn badges as you meet goals. I haven't yet played with the goals much yet, I'm more interested in getting a new habit established first. I'll have to revisit this part later.
Overall I am impressed with how it works, it's a bit more pricey than a regular pedometer and so much more useful and motivating. Now to work a little harder, move a little more and earn some badges on FitBit.