A few weeks ago, we had a great time at Delta H Con. Nice to be able to go to a con nearby without all the travel headaches. You can think of it as a smaller version of one of the larger comic cons out there. We decided to go on Saturday since there were a few things the kids were interested in.
Delta H Con was held at the JW Marriot, meaning in the middle of the Galleria chaos with Saturday traffic and people shopping for back to school. We called before heading over to ask about parking for events but by the time we arrived that lot was completely full and we were turned away. We were also turned away from the hotel's parking garage because we weren't guests (staying in a room). So we had to find parking at the Galleria, and ended up in the parking hell of the yellow garage. The walk over to the hotel was only a few blocks then across Westheimer.
Once inside, we found the registration tables and got our badges for the day, along with a program. We'd already looked at the schedule online, so had an idea of what we wanted to take in. Since it was still early, we decided to walk around and people watch and look at merch.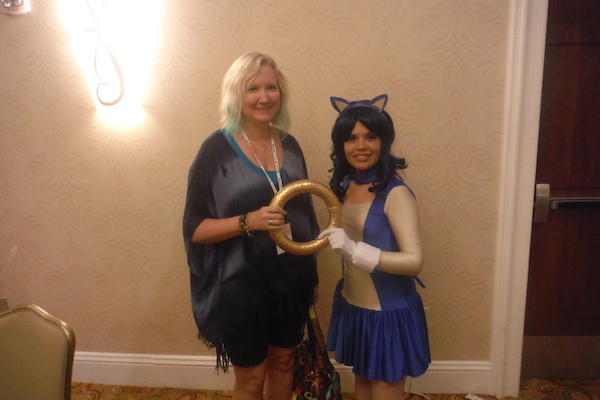 We also attended a session about video games and how they can be heroes. Kappa Lizzy (above!) talked about how video games, Sonic the Hedgehog in particular, was instrumental in her recovery from having a brain tumor when she was 11 years old. She became ill, missing school, was losing her ability to see, hear, and even stand when she was finally diagnosed. They took her to Texas Children's and were able to successfully remove the tumor, which is amazing because it was a brain stem tumor. But after the surgery, she had to learn how to do most everything over again, speak, eat, use her hands, walk, etc. And it was hard and kids can be cruel when they see something like that they don't understand. She was picked on and bullied when she returned to school. Then one day she saw the Sega Genesis with Sonic. And she could hold the controller and it turned out the game was perfect for reteaching herself hand eye coordination and fine motor skills. Today, she's telling her story to others and has even been featured by Sega in one of the Sonic magazines. Very inspiring.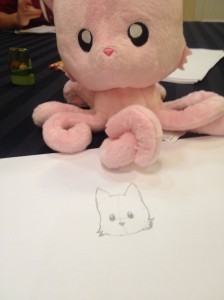 My daughter and I attended a drawing workshop given by John the creator of Tentacle Kitty. We chose this because she's an artist and is interested in growing her talent and here's someone who created a character and has even created plushies and is in talks to create an animated web show. We arrived early, wanting to get seats right up front and found they were setting tables with paper and pencils so everyone could participate! We met John as he was setting things up. Then the session officially started and we learned to draw Tentacle Kitty – watching and following along on the big screen as he drew and talked about Tentacle Kitty's history and style. He also shared a little about the creation of the plushie and how many different prototypes they went through (something like 11) to get to the actual product. Of course, my daughter bought one.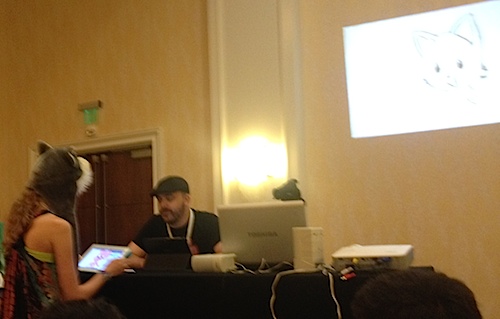 He also took questions from the audience, I asked what advice he had for young artists and his answer somewhat surprised me. He basically said to not listen when people tell you, you have to have a regular job, or you should get a regular job. That's what you hear so often, it was nice to hear this other view. After all, Rodney and I haven't had regular jobs in quite some time, being self employed. 🙂 He also had some tips about drawing and software. (Wacom and Photoshop and he uses a PC) One of the things that stayed with me, was that you have to keep drawing, you'll get better and better – make it a practice.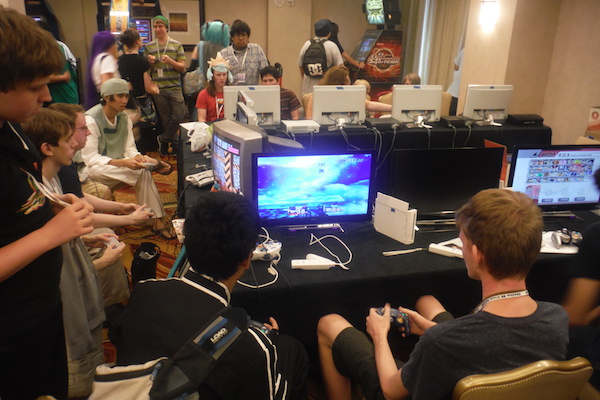 My son entered the Super Smash Brothers Brawl tournament. He hung out beforehand and played against some of this would be opponents. The tournament matched up a dozen or so guys for the best 2 out of 3, with the winner of that match advancing to the next level. He made it past the first round to get knocked out in the second. All in all, not bad for his first competition of that type.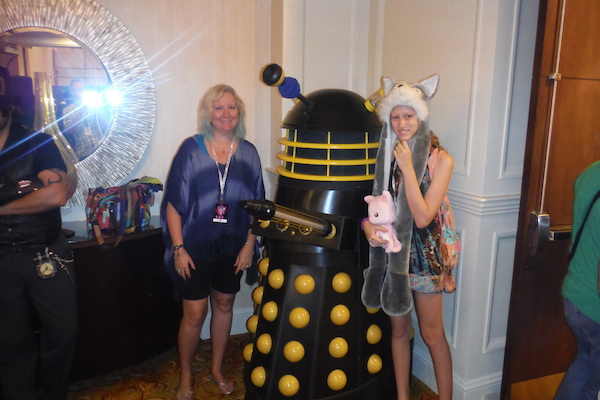 We met Dalek Strom and got a picture. This Dalek was so perfectly detailed and so big! We didn't see much other Whovian stuff or cosplayers at the con, glad we got to see it.
We ended up at the original Ninfa's on Navigation for dinner. All in all it was a good day, one the whole family enjoyed. We decided that we'd like to do more cons like this, but with cosplay.
Here's some of the cosplayers we took pictures of, do you recognize any?